Fashion is pure pop now, and what's not to love about that? Because every show is livestreamed and photographed from every possible angle—including the phone of your favorite influencer fashion show attendees—everyone sees the clothes from the runway at the same time. Anyone can easily find the details that were once hidden or even considered uninteresting—hairdressers, manicurists, the stylists of the celebrities sitting in the front row.
For all the hand-wringing about the corporatization and consolidation of fashion, it must also be said that it's led to its democratization; more resources and higher stakes, at least in this case, mean that the clothes and the ideas need to reach more people. The intellectual silver lining to going mass is that now, anyone can have a platform to critique or weigh in, as the explosion of commentary on Instagram, Twitter, and TikTok from people who largely don't attend fashion shows has demonstrated. Acolytes of any art form would be foolish to deny the benefits of knowing the perspective of outsiders. It's a richer and more fun art form because any person can immediately look, know, and understand.
But then you see a show like Rick Owens's on Thursday afternoon and you want to shout from the rooftops about the power of individuality, and the confidence to be obscure. What Rick Owens has always represented is the alternative—and I don't mean, Ooh, wow man, that song with three instead of one or two guitars is sort of alternative. I mean going another way in life, defining beauty on your own terms, and living that way and expressing your ideas at the highest possible quality.
The stylist and editor George Cortina once told me that more people need to appreciate how beautifully cut and constructed Owens's gowns are under his black eye makeup and enormous shoes and layers of fabric. And he's right! Owens is like a Madame Vionnet for our times, whose technique exceeds almost all of his peers. But I always want to see his work the we did at this season's show: with a fog machine and a spanking-new song from the electroclash legend Peaches both pumping, his famous platform boots puffed up, and the models' eyes streaked with black paint like a Venetian mask, and their eyes disappearing behind black contact lenses.
What made Owens's show particularly moving was its emphatic sobriety. "WE ARE ONE YEAR INTO A WAR AND WITNESSING HOW INSPIRING DIGNITY IN THE FACE OF AGGRESSION CAN BE," Owens wrote in his show notes. (He always writes in all capitals.) "TIMES LIKE THESE MIGHT CALL FOR A RESPECTFUL FORMALITY AND SOBRIETY WITH MOMENTS OF DELICACY AS REMINDERS OF WHAT IS AT RISK AND AT STAKE."
He had a striking object slung around many of his models shoulders which he called both a "DONUT" and a "GARLAND," and it looked and moved like a sludgy sequin hug or jumbo acid-wash old Hollywood stole. He shredded denim into little empire waist jackets and trains, and slit black knit tunics and dresses off to the side, leaving long trains dragging like they were made for a movie premiere where the dress code was "restrained demonic opulence."
It was a reminder to those of us not permanently ensconced in the Owens universe that there are other ways to create in times of crisis or sadness or simply stasis. When it feels as if the world is sapped of happiness or inspiration, it's a smart person's responsibility to continue to say something different—something that's not just not-joy.
Another pair of designers who have hit their stride speaking to a cognoscenti of their own cultivation rather than the masses: Ashley and Mary-Kate Olsen, of The Row. What continues to make their brand so exciting is the consideration of where they began, with luxurious basics that dutifully complemented other runway brands. Now, they seem to unleash the most unusual and imaginative visions from their brains, combining 1950s couture deep cuts with the most obsessively tailored suiting and accessories and bags that somehow open up an entirely new way of moving through the world.
This season, there was a pale, pale mint green dress with a wide neckline that looked like it was made out of gum wrappers tenderly folded into paper cranes, worn with elm green opera gloves and a little ladyish low-heel pump; capes that wrapped around the body with the drama of an opera singer's weepiest aria; and great pointy little turban hats. Towards the end of the show—the soundtrack was Bauhaus's "Bella Lugosi's Dead," so good—were two cape looks worn by gloved models who clutched at their chests. What was behind that gesture? Is she returning, insecure, to an old lover's house? (And hey, maybe she's nude underneath!) Leaving the opera and simply chilly? Few collections inspire such intimate reveries.
These are not clothes that are instantly understandable. The fabrics seduce you, I'm sure. But the Olsens are the kind of designers whose work is more rewarding the more you read, the more music you listen to, the more you go to plays and see movies and visit museum exhibitions. Suddenly the lines look extremely artful, the colors extraordinarily intentional. Their eccentric styling, done by Brian Molloy, snaps into place. You realize you're looking at a special and unusual woman, and you feel blessed to be in her proximity. Bravo to the designers for pursuing this journey, and seemingly going in deeper every year.
Daniel Roseberry, of Schiaparelli, is another designer who's pleased as punch to do his own thing. His first ready-to-wear show was more restrained than his effusive haute couture, shown in the salon rooms of a decadent mansion next to his atelier on the Place Vendome. But it was no less of a mega-moment.
A handful of designers are warming our chilly hearts this season by recalling the show formats of designers past, with Anthony Vaccarello's remake of the Intercontinental Hotel another smasher. Roseberry's squished-in show was totally dreamy, with models wandering into the little rooms and doing a turn or two, so you could really get a sense of the details of the clothes and jewelry, and the buttons and hems and little hats, done by Stephen Jones. (My iPhone images look like they were taken by WWD photographer in the 1980s shooting Lacroix couture or something—up close and fabulous and slightly askew. The folks at home will be so impressed!)
Roseberry looked to Elsa Schiaparelli's own wardrobe and jewelry during the 1930s, to create what is essentially the highest level of ready-to-wear beneath couture. The clothes were just exquisite. A black rounded-sleeve dress with asymmetrical buttons worn with a tightly wrapped white turban opened the show—the sort of dress a couture customer in the '30s might have had as an edited wardrobe of daywear, to put on a couple times a week with different hats or jewelry. And then pieces that channeled Elsa like we were in a seance: an off-shoulder velvet blazer with gold eye buttons, trimmed with long faux gorilla fur; a double-breasted jacket decorated with buttons that recalled her collaborations with Schlumberger; the perfect velvet shawl-collar tuxedo; a black dress gushingly draped at the bust and one hip, worn with a necklace of giant gold oyster shells; and hand-painted jackets (which will be stenciled when they're sold in stores).
Two pieces really got at what made 1930s clothing, especially Schiaparelli's, so great: a skirt suit the color of burnt caramel, with enormous faux fur cuffs, and an earthy brown dress with a bib at the chest and the rest of the dress ruched around it. They are weird pieces. What's with the big cuffs? What's with the color of that dress? That woman must know something we don't, you think, because she's walking with such confidence, such pleasure. Backstage, Roseberry said his clients know they can come to the house for something "exotic," that feels special or unusual. It makes my heart skip a beat to know that such couture customers exist in the world.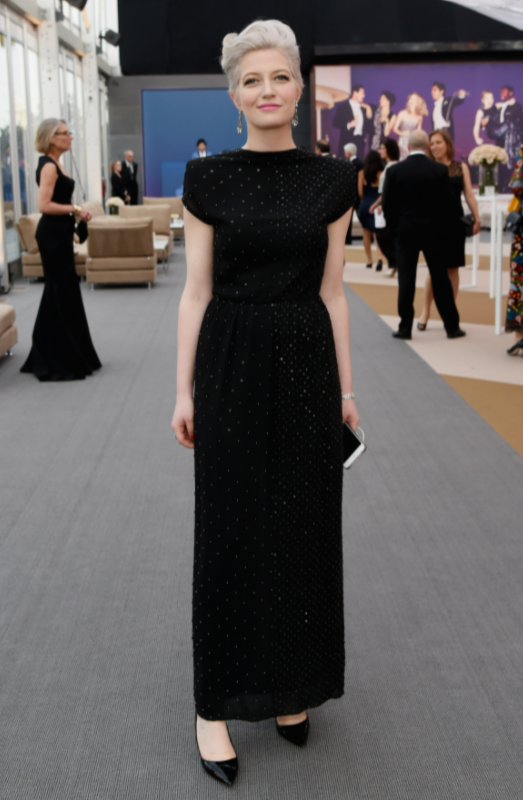 Rachel Tashjian is the Fashion News Director at Harper's Bazaar, working across print and digital platforms. Previously, she was GQ's first fashion critic, and worked as deputy editor of GARAGE and as a writer at Vanity Fair. She has written for publications including Bookforum and Artforum, and is the creator of the invitation-only newsletter Opulent Tips. 
Related Posts